One of the biggest myths in the automotive industry is that your warranty will be void if you don't take your car to the dealership. It's not true. The law is that as long as a licensed repairer services your car according to your car's logbook, your warranty will not be impacted whatsoever.
Now that we have that myth out of the way, instead of asking "do I have to service my car at the dealership" you can ask whether you actually want to service your car at the dealership. Below we've taken a deep dive into the pro's, con's and myths of dealership servicing and repairs so you can make that choice yourself.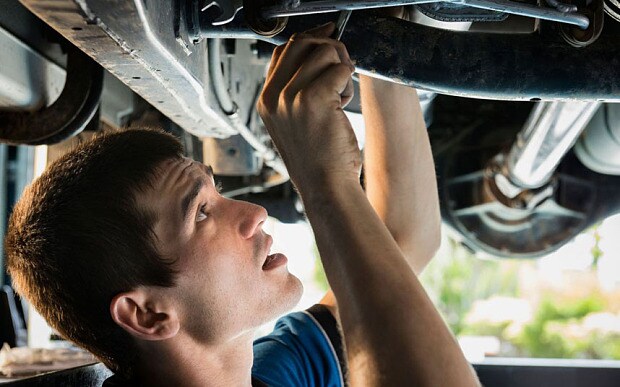 PRO'S
Dealerships are usually the experts in the make and model of your car as they only deal with one specific brand.
They have access to the electronic scan tools specific to your make of vehicle. (though some non-dealerships may have these as well)
Usually, they will offer a loan car available while your car is on the road. Depending on how busy your dealership is though, you might have to wait up to two months before one actually becomes available.
CONS
Usually the most expensive option.
A basic service will still take a whole day. Typically you will have to drop your car off at 8 am and pick it up at 5 pm. That's a whole day with your car off the road. Depending on the work required, this can often extend to two days and beyond.
Dealerships are notorious for upsells — more so than your local workshop. Additive companies provide the service advisers commissions for selling you flushes you don't need. They will present you with a job card with all of these extras pre-printed, leading you to believe your car needs it. Always say no.
Most dealerships will have transport, but they're limited to times and destinations.
You will likely never talk to the mechanic who actually fixes your car. All of your dealings will be with a receptionist and service adviser, so all information relayed is second hand.
MYTHS
Your warranty will be void.
As mentioned earlier, dealerships like you to think that your car must be returned to the dealership for servicing to keep your warranty intact. The fact is this is not true. As long as a licensed repairer services your car according to your car's logbook, your warranty will not be impacted.
'Fixed-price' and 'free' servicing reduces your servicing cost.
Not true. Dealerships make the bulk of their money from servicing and repairs (not new car sales), meaning they need to make money from your 'fixed' or 'free' service packages. Often standard items such as batteries, tyres, wheel alignments and other repairs aren't included and the dealership will also upsell you unnecessary things like air-conditioning services and injection flushes.
In-car software is updated at every service.
While only the dealer can update manufacturer-installed software (such as GPS), the reality is software updates happen rarely – certainly a lot less frequently than your services. So ask your dealer what updates have happened since your last service. If it's nothing significant, then feel free to shop around for a better price.
Your vehicle is being recalled.
Supposed 'vehicle recalls' are becoming more and more common — yet cars are becoming safer with improved technology. Manufacturers have begun using minor issues as a reason for a "recall" to get a customer back in. At this point, they will upsell you a service and other repairs. It's simply a marketing tactic dealerships use to stop customer leakage. If you do get a recall, by all means, get it fixed. But you don't have to agree to extra paid work. Feel free to go to your regular mechanic or shop around for a better price.
If you're still questioning "do I have to service my car at the dealership?" In short, the answer is: no you definitely do not. Whether you still choose to or not is up to you. Generally, you will find them overpriced and much too quick to jump on an upsell. One of the most important things to look for when shopping around is a place where you can talk to the mechanic working on your car directly! If you decide to ditch the dealership and need a new mechanic, contact Titan Auto at Thornton and speak to our friendly staff or mechanic.
Article Source: Blue Toro